Wednesday, September 5th: CrossFit
Alpine CrossFit – CrossFit
Announcements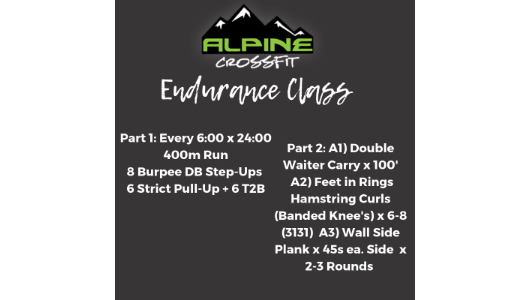 Endurance Class is OCR Focused this week! Looking for extra gains? Give part 2 a try to help balance the body out!
Warm-up
Warm-up (No Measure)
500m row, then…
3 Rounds:

-7 Bottoms up KB press

each arm

-6 crossover symmetry snow angels

-Bunny hop the length of the rig
Weightlifting
Shoulder Press
Every 2 minutes, for 6 minutes(3 Sets):

-5 Strict Shoulder Presses.

**Building to a heavy 5 Reps**
Metcon
Metcon (AMRAP – Reps)
Your Score is going to be the combined total of all your lunges and all your DU.
18 minute EMOM(6 Times Through):

-Minute 1= 30s to complete: 6 Push Press at 100% of Strength + ME Back Rack Lunge Steps in remaining time.
-Minute 2= 30s ME Double Unders
-Minute 3= Hollow Body Hold x 30s
Scaling:

-Lunges can become unweighted if weight bothers knees.

-Double Unders ME can become 30s of DU practice or 30s ME Single Unders.

– Hollow Body holds can be done with hands at your side with palms up.
Cool Down
-End of Barbell Roll Quads x 30-60s ea. Leg (Adductors, VMO, Lateral Quad, etc…)

-BB Head in Shoulder w/ Internal & External Rotations x 30-60s ea.

-Lying Scorpion (On Chest) Hold x 60s ea. Leg

-Downward Dog x 90-120s Hold