Wednesday, October 31st: CrossFit
Alpine CrossFit – CrossFit
Announcements
Favorite Halloween candy?? All of this strength work is sure to earn you a piece of it

**Special Note for 6:30am Endurance class, we will be doing the first Battle Series Workout**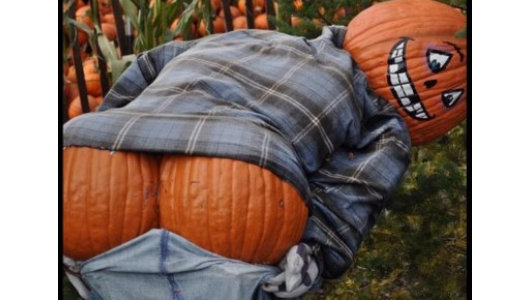 Happy Halloween!!
Warm-up
6:30 am–follow the same warm up, then take 5-10 min on WOD prep. Your WOD is at the very bottom
Warm-up (No Measure)
General Warm-Up:

Part 1:

-10 Calorie AB Legs Only

-6 Calorie AB Arms Only

-10 Calorie AB

Part 2:

"I dream of Jeanie" x 10 ea. Side (Light Red Band on Rig)

10 Banded CrossOver OHS w/ Pause in Bottom
Burgener Warm-up (No Measure)
BURGENER WARM-UP:

1. Down and "Finish"

2. Elbows High and Outside

3. Muscle Snatch

4. Snatch Lands at 2″, 4″, 6″

5. Snatch Drops
SKILL TRANSFER EXERCISES:

1. Snatch Push Press

2. Overhead Squat

3. Heaving Snatch Balance

4. Snatch Balance without a dip

5. Snatch Balance with a dip
Snatch Development
Snatch Development: A) E2MOM x 8:00= Sn. Pull + Power Snatch + OHS (50%+)
**PoP: We're shooting for position reinforcement in phases of the Snatch.

-Sn. Pull= Proper Bar Path & Balance

-Power Snatch= Proper Timing & Fast Hips

-OHS= Overhead Stability & Mobility
Back Squats and Russian Step Ups
Every 3 minutes, for 12 minutes:

-4 Back Squats @85% of your heaviest form last week, then right into 4 Alternating DB Russian Step ups,each leg(16/20″)
PoP: Get Explosive!

1- Solid Position & Bracing on Back Squats

2- Full Foot on Box for Step-Ups to ensure the best leg drive up.

3- DB weight needs to support speed on the step-up, not overall load.
Cool Down
400m Light Jog w/ MB Carry

Banded Tall Lunge x 60s ea. Leg

CrossOver Sym. Recovery Series (Take your time!)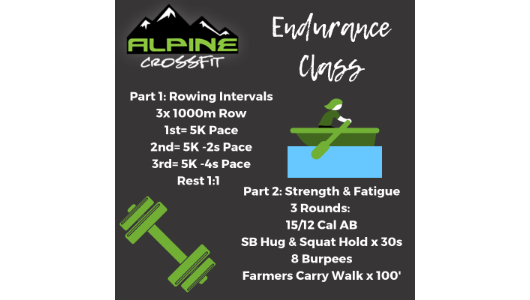 Metcon (3 Rounds for time)
Rowing Intervals:

3x 1000m Row
Row 1= 5K Pace

Row 2 = 5K -2s Pace

Row 3= 5K -4s Pace
Rest 1:1
Metcon (Time)
3 Rounds:

15/12 Cal AB

SB Hug & Squat Hold x 30s

8 Burpees

Farmers Carry Walk x 100′
Metcon
6:30 am will hit this WOD today while the rest of you folks will have it on Friday. We want to get it in with Garik before he leaves town 🙂
2018 Battle Series WOD 1: (Time)
2 Rounds for Time:

-9 Box Jump Overs (24/20)

-18 Power Snatches (95/65)

-9 Box Jump Overs

-18 OHS

-9 Box Jump Overs

-18 Thrusters