Wednesday, October 10th:CrossFit
Alpine CrossFit – CrossFit
Announcements
Endurance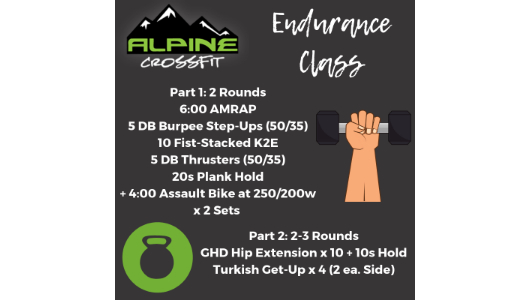 Warm-up
General Warm-Up:

400m Run

3 Rounds: Banded OHS (CrossOver Chords) x 5 w/ Pause in Bottom

Plate Hug RDL x 10

3-3-3 Push Up Matrix (Normal Hands, Staggered Hands)
Specific Warm-Up:

Snatch Tech Complex Build x 2-3 Rounds:

-Snatch Grip RDL

-Pocket Muscle Snatch

-Snatch Balance (1/4 Squat)

-OH Lunge x 3-5 Repetitions ea.
Metcon (Time)
4 Rounds for total time:

-8 Power Snatch(95/65#)

-12 lateral burpees over the bar

-8 Power snatch.

**2 minutes between rounds**

(RX+ 115/75)
In-Balance Strength
Tabata Ring Plank(20s on 10s off x 8)

Right into…

Tabata Superman with Band Around Knees(20s on 10s off x 8)
Cool Down
Banded 3-Way OH Stretch x 45s ea.

CrossOver Recovery Chord Series
Metcon (2 Rounds for reps)
6:00 AMRAP x 2 Rounds

5 DB Burpee Step-Ups

10 Fist-Stacked T2B

5 DB Thrusters

20s Plank
Immediately into 4:00 AB (250/200w)
A1: GHD Hip Extension (10-10-10 (10s Hold on Final Rep))
Face-Down on GHD, pads are in the middle of quads to allow for an uninterrupted hip movement. Descend the upper body while maintaining a straight back. Tension should build in the hamstrings and slightly in the glutes/lower back. Achieve 90 degree's, then return to a flat and engaged upward position (Use glutes to lock top position). Controlled the Eccentric Portion.
A2: Turkish Get Up (4-4-4)