Wednesday, October 10th:CrossFit
Alpine CrossFit – CrossFit
Announcements
ENDURANCE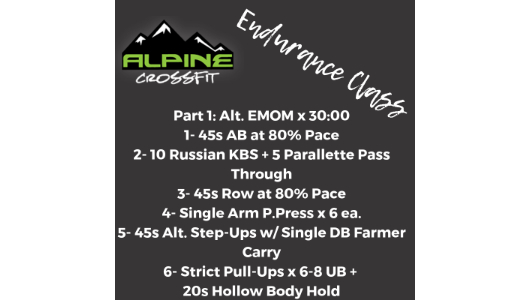 Warm-up
General Warm-Up:

400m Run

then..

3 Rounds:

Banded OHS (CrossOver Chords) x 5 w/ Pause in Bottom

Plate Hug RDL x 10

3-3-3 Push Up Matrix (Normal Hands, Staggered Hands)
Specific Warm-Up: Snatch Tech Complex Build x 2 Rounds:

Snatch Grip RDL

Pocket Muscle Snatch

Snatch Balance (1/4 Squat)

OH Lunge x 3-5 Repetitions ea.
Metcon (Time)
4 Rounds for total time:

-8 Power Snatch(95/65#)

-12 lateral burpees over the bar

-8 Power snatch.

**2 minutes between rounds.(RX+ 115/75)
In-Balance Strength
Tabata ring plank hold(20s on 10s off x 8)

right into..

Tabata Superman hold with band Around knees.
Cool Down
Banded 3-Way OH Stretch x 45s ea.

CrossOver Recovery Chord Series
Extra Gains
Metcon (Calories)
Alt. EMOM x 30:00

1- 45s AB at 80% Pace

2- 10 Russian KBS + 5 Parallette Pass Through

3- 45s Row at 80% Pace

4- Single Arm P.Press x 6 ea.

5- 45s Alt. Step-Ups w/ Single DB Farmer Carry

6- Strict Pull-Ups x 6-8 UB +

20s Hollow Body Hold
Score= AB Calories + Row Calories + Step-ups
Coaches Note: You MUST still be able to perform the other minutes of performance to continue for the 30:00.