Wednesday, November 7th: CrossFit
Alpine CrossFit – CrossFit
Announcements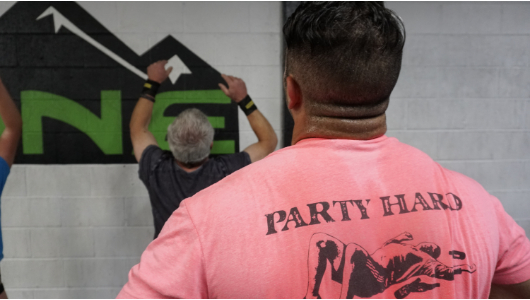 It's Hump Day! Party Hard with Guided Open Gym and Endurance. BMUs are in next weeks Battle Series, prioritize this skill 4:00-5:30 today
Announcements
Endurance class at 6:30 am and 5:30 pm. If you're looking for a good, long sweat–get to this class!
Warm-up
Part 1: 3 Rounds:

-30s Pallof Hold

-30s AB with Partner & Switch

Part 2: 3 Rounds:

-Single Leg Rotating MB Throw x 3-5 ea. Side

-"I Dream of Jeanie" ea. Arm

-Briefcase Carry w/ High Knee Walk x 100 ea. SIde
Metcon (AMRAP – Reps)
8 Rounds for total Reps:

-40s of Burpee to Target

-Rest 20s

-40s of AB Cals

-Rest 20s
Metcon (No Measure)
Post Metcon: 4 Rounds:

-Back against wall side plank on hand x 45s each side

-45s Wall Sit with Medball Squeezed between legs.
Cool Down
-MB Hug & Walk x 6-8 Laps around Rig or 200m

-Hurdle Stretch x 60s ea. Leg

-Lying Scorpion x 45-60s ea. Side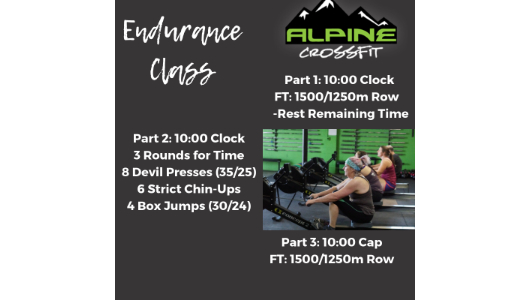 Metcon (2 Rounds for time)
For Time

1500/1250m Row
Metcon (Time)
3 Rounds for Time:

8 Devil Press (35/25)

6 Strict Chin-Ups

4 Box Jumps (30/24)
10:00 Clock

Rest remaining time in the 10:00 Window