Wednesday, November 14th: CrossFit
Alpine CrossFit – CrossFit
Announcements
**Special Note***

6:30am will do the Battle Series. Anyone participating in Spartan or The Turkey Challenge this weekend should prioritize this time for our final WOD

Turkey Challenge is this weekend! Stay tuned for heat assignments
Warm-up
General:

3 Laps around Rig

(1 Lap Forward, 1 Lap Lateral, 1 Lap backward)
Part 2:

-Back Rack Banded Lateral Walk (Band around feet and shoulders) 5 Steps

-5 Squats x 3 ea. Direction

-5 Burpee's to Target

-1 Wall Walk
Strength EMOM
Back Squat
Every 3 minutes, for 12 minutes(4 Sets):

-4 Back Squats @ 90% of heaviest 5RM (Of Your First Week 5RM)-Right into 3 broad jumps.

**Make sure to have a rebound with these. No resetting between jumps.**
Metcon
Metcon (Time)
For Time: 50 Sandbag Get-Ups(3/2 inserts)
PoP:

1. Keep moving.

2. This is a rythmic movement and if you try to rush early, you will exhaust yourself! 3. Find flow in the earlier repetitions, then push the pace as you near the end.
Cool Down
-2-3:00 AB Cool-Down

-Seated Cross-Body Knee Hug x 60s ea.

-Banded Tall Lunge x 60s ea. Leg

-30 Cat-Cows Accumulated
Announcements
6:30amers! Hit the warm-up, then take 7-10 min for WOD prep before getting in to this workout.
2018 Battle Series WOD 3 (AMRAP – Reps)
9 min AMRAP:

2-4-6-8.. DL

10-20-30-40.. Double-Unders

2-4-6-8..TTB
DL:

-RX=(225/115)-Scaled/Scaled Masters= 135/95

-Masters 55+= 185/125
Double Unders:

-RX= Double Unders

-Scaled and Master Scaled= Single Unders
TTB:

-RX= TTB

-Scaled and Masters Scsaled= Hanging Knee Raises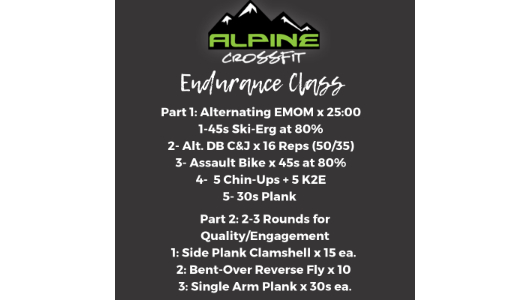 1: Metcon (Calories)
Part 1: Alternating EMOM x 25:00

1-45s Ski-Erg at 80%

2- Alt. DB C&J x 16 Reps (50/35)

3- Assault Bike x 45s at 80%

4- 5 Chin-Ups + 5 K2E

5- 30s Plank
Score= Calories on Ski & Bike Combined
B1: Side Plank Clamshells (30-30-30)
https://www.youtube.com/watch?v=FhgJNgvyVVU
B2: Reverse Fly (10-10-10)
B3: Single Arm Plank (30-30-30s)