Wednesday, May 9th: CrossFit
Alpine CrossFit – CrossFit
Announcements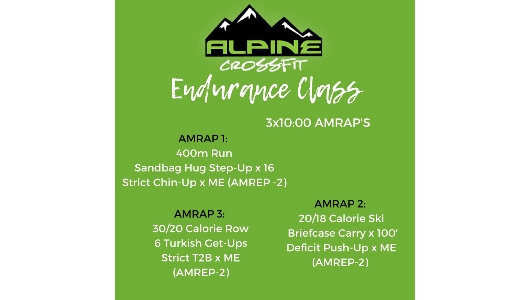 Warm-up
Warm-up (No Measure)
A) Partner MB Throw Series

10 Granny Tosses ea.

-10 Sampson Lunges

10 WB Tosses ea.

-15 Hollow Body Rocks

10 Rotation Throws (R) ea.

-10 Inch Worm w/ Turn Out

10 Rotation Throws (L) ea.

-10 Burpee's
B) 2-3 Mini Rounds

4 Alt. DB C&J (Ascending to WOD Weight)

6 V-Ups

2 Burpee's
Metcon
Metcon (3 Rounds for calories)
2:00 AMREP x 3 Sets

8 Single Arm DB C&J (50/35; Must alternate)

12 AbMat Sit-Ups

8 Burpee Over DB (Lateral Jump)

ME Assault Bike Calories in Remaining Time

-Rest 2:00 after each set
RX+

70/50lb DB

Ski-Erg Calories

-You may ONLY use Ski-Erg if you are doing RX+ DB Weight.
Strength (not for time)
A1: Banded Push-Ups (ME-ME-ME (AMREP-2))
https://www.youtube.com/watch?v=cOFwFzzLFWw
Rest 30-45s
A2: Strict Chest 2 Bar Pull-Ups (Pronated) (8-8-8)
Wide-Grip

Temp: 31×2

Banded or Seated Scales

Rest 45-60s
Cool Down
Metcon (No Measure)
Cool-Down Series:

LAX in Pec & Lat Head x 30-45s ea.

Banded Face-Pulls x 20 (2121)

Banded Lateral Opener x 45s ea. Arm

Acc. 30s HS Hold or Variation
Extra Gains
A1: Dumbbell Hammer Curl (10-10-10)
In a neutral grip with DB's, curl weight from your sides to a double front-rack position, then return. Keep under control and minimize hip movement.
A2: Tricep Extension (Standing) (12-12-12)