Wednesday, May 30th: CrossFit
Alpine CrossFit – CrossFit
Announcements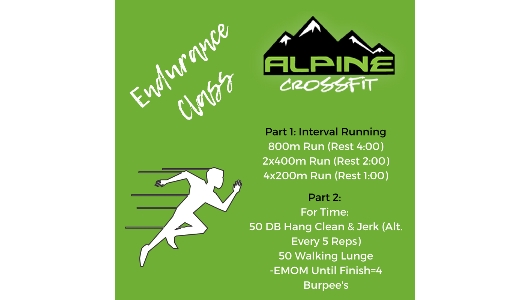 Warm-up
Full Body Warm-up D (No Measure)
8 Minute AMRAP

After two movements, complete a "Power 10" on the Assualt Bike (Sprint 10 secs)

– 15 Air Squats and 15 Push-Ups

– 3 Wall Climbs and 10 Star Jumps

– 5 Scorpions per side (on back) and 5 Scorpions per side (on stomach)

– 20 Steps Walking Lunge w Stretch (10/side) and 5 Burpees
2 Sets: Leg Swings

Forward & Backward x 10-15

Lateral (Across body) x 10-15
WOD Review
Today's WOD is about making the most of a 2:00 Clock. Each set component can only be pushed so fast so be sure to find a speed that allows for high intensity & repeatable efforts. 3:00 rest should be more than enough time.
WOD Set-Up: Make sure you have

2x DB's (Same Weight)

1x Box

1x Wall Ball

1x Counter or Whiteboard

1x Can-Do Positive Attitude 🙂
Score for each Round is the total number of repetitions from your Max Effort Movement.
Metcon
Metcon (6 Rounds for reps)
2:00 AMREP ea. Station x 6 Total (3 Each)
1) 8 DB Burpee's (Burpee DL w/ DB's)

16 Step-Ups (24/20)

ME DB HPC (50/35)
2) 20 Walll-Balls (20/14lbs)

ME Alt. DB Snatches (50/35)
-Rest 3:00 b/w Stations

-Rounds 1,3,5 are station 1. Rounds 2,4,6 are station 2.
Rx+=

1) 10 DB Step-Ups

2) 30/20lb Wall-ball
Cool Down
Metcon (No Measure)
Cool-Down Series:

3-5:00 AB or Row

Banded 3-Way OH Stretch x 30-45s ea. Arm

20 Banded Face Pulls 2222 Tempo

Acc. 60s Hollow Body Hold
Extra Gains
A1: Single Arm DB Row (8-8-8)
(2s Pause at the Top)
8 ea. Arm

Rest 30s b/w Arms and 60s After Both
A2: Kettlebell Arm-Bar (8-8-8)
In a lying position, active arm is holding the kettlebell over the chest. Using the same side leg and midline conduction, the athlete will rotate their hips from flat to a side position all while holding the Kettelbell arm straigh (Distributing pressure from chest into shoulder and back). Then return to lying position
8 ea. Arm

Slow and Controlled

Rest 60-120s before A1