Wednesday, May 16th: CrossFit
Alpine CrossFit – CrossFit
Announcements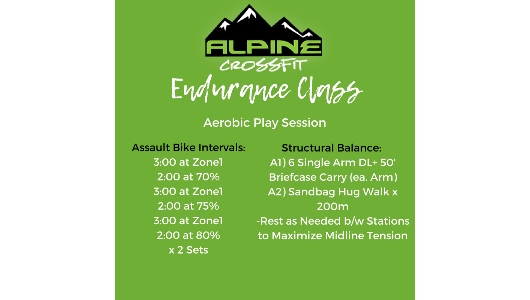 Warm-up
Indoor Relay Warm-Up (No Measure)
50-100′ Each Movement

Lunge (Forward and Backward)

Side Lunges (Alternating)

Inch-Worm

Duck Walk

Standing Toe Touches

High Knee's (Forward and Backward)

Butt Kicks (Forward and Backward)

A-Skips

B-Skips

C-Skips

Bounding
Warm-up (No Measure)
WOD Specific Warm-Up: 2 Sets

5 Kipping Motion

3 Inch-Worm

5 Russian KBS

6 OH Plate Lunge
Metcon
Metcon (4 Rounds for time)
4 Rounds (Rest 2:00 b/w Rounds)

Rounds 1/3=

500/400m Row

2 Rounds

8 Ring Dips

8 T2B

(Rx+= 8/6 Muscle-Ups)
Rounds 2/4=

400m Run

2 Rounds of

12 KBS (45/25)

12 Single Arm OH Lunges (Switch at 6 Reps)
Score is time per round.
Strength (not for time)
A1: Banded Push-Ups (3x ME -2 )
https://www.youtube.com/watch?v=cOFwFzzLFWw
Rest 30-60s
A2: Ring Rows (3xME-3)
Tempo: 21×1
Cool Down
Metcon (No Measure)
Cool-Down Series:

LAX/BB Tricep Roll Out ea. Arm x 30-45s

LAX/BB Lat Head Roll & Active Release x 45s ea.

CrossOver Recovery Series
Extra Gains
A1: Dumbbell Hammer Curl (10-10-10)
In a neutral grip with DB's, curl weight from your sides to a double front-rack position, then return. Keep under control and minimize hip movement.
A2: Front Deltoid Raise (12-12-12)