Wednesday, June 13th: CrossFit
Alpine CrossFit – CrossFit
Announcements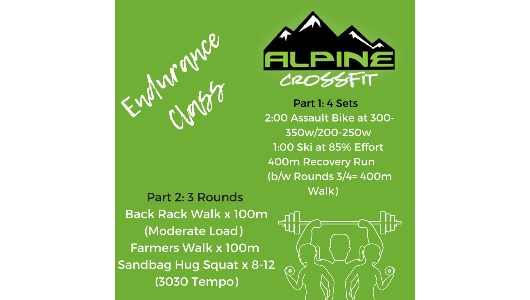 Endurance Class is designed for ANYONE looking to improve their aerobic/endurance capacity. This can range from summer 5K's to OCR Races 🙂 Don't have the schedule to make the class? Implement it in your training another time during the week!
Warm-up
Warm-up (No Measure)
400m Run,
2-3 Sets for Quality:

2 Wall-Walks

6 Banded Face Pulls (2222)

12 Walking Lunges

30s Bridge Position Hold
Turkish Get-Up Review
Strength (not for time)
You will have a running 8:00 clock to complete 3 sets of both movements. TGU should be optimized for perfect execution of movement, not heaviest load. Strict Chin-Ups are with no tempo but make sure you are controlling throughout the curve.
A1: Turkish Get Up (2-2-2)
Rest 30s
A2: Strict Chin-Ups (ME-ME-ME)
Rest 60s
Metcon
Starting as soon as the 8:00 Strength clock is up. The goal of this E4MOM is repeatable efforts getting as close to a 1:1 Work/Rest Ratio as possible. Push the pace as best you can! The weights chosen should inspire an Unbroken mindset.
Metcon (4 Rounds for time)
E4MOM x 16:00=
12 Kettlebell Swings (53/35)

50 DU's (30s Single Skips)

12 DB Renegade Rows (35/25)
Rx+= 70/35 KB & 50/35 DB
-Rest remaining time in the 4:00 Window.
-Scaling: All scales should promote the best flow of consistent movement. If KBS weight is too much, dial it back. If Renegade Rows are an issue…

-Scale the weight for a more solid position in the row.

-Scale to 8 Push Ups + 8 DB Plank Rows if the push up/row combo is too much to maintain.
Cool Down
Metcon (No Measure)
Cool-Down Series:

LAX in 2 Different Spots on Shoulder x 30s ea. (Search for tender/tight spots & move your body around the set LAX ball.

Banded 3-Way OH Stretch x 45s ea.

Feet in Rings Plank Saw x 30s x 2 Sets
Extra Gains
C1: Double DB OH Tricep Extension (12-12-12)
Neutral Grip with DB's. Hold DB's overhead and bend only at elbows allowing DB's to go behind head. Try to maintain midline tension.
C2: Dumbbell Hammer Curl (12-12-12)
In a neutral grip with DB's, curl weight from your sides to a double front-rack position, then return. Keep under control and minimize hip movement.
D1: Lateral Deltoid Raise (15-15)
D2: Flat Bench Flys (15-15)