Wednesday, July 25th: CrossFit
Alpine CrossFit – CrossFit
Announcements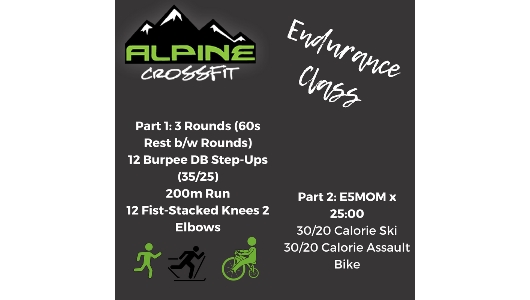 Warm-up
Warm-up (No Measure)
Part 1: Alt. With a Partner, 3 Rounds:

10 Banded Hip Thrusts

10 Calorie Assault Bike
Part 2: Plank Pull Through Relay with Explosive Squat

-Teams will compete for Plank Pull through races. Once you pass the KB through your plank, perform 1 explosive squat jump, then run to the end of your line and get back into a plank to continue the KB pass through. Winning team goes down & back the length of the rig.
Strength EMOM
Back Squat (E2MOM x 16:00= 3,3,3,5,5,3,3,3)
Sets 1-3= 2-3 Pause Back Squats (1-2s Pause; 45-55-65%)

then, 5-5-3-3-3 5's at 80%

3's at 85%
Metcon
Metcon (Time)
4 Rounds for Total Time:
Row x 15/12 Calories

-Rest 45s

Jump-Switch Lunges x 12

-Rest 45s

Hang Power Clean x 5 UB at 55-60% of Max

-Rest 45s
Cool Down
Metcon (No Measure)
Cool-Down:

400m Walk/Jog

Barbell Quad Roll-Out x 45-60s ea. Leg

Banded Lunge x 60s Accumulation

Banded Pigeon Stretch x 60s ea. Leg

30/30/30s Hold x 2 Rounds

Glute Bridge (Both)

Glute Bridge (Left Leg)

Glute Bridge (Right Leg)
Extra Gains
You wanted to get better at Muscle-Ups? Or perhaps get your first one? Here's your chance!
Metcon (No Measure)
Extra Gains Three
One set of:

Ring Swing x 10 reps
3 sets of:

Interval 1 – Ring Scap Pull-Ups x 10
Interval 2 – Supine Ring Swings x 6

*Keep legs straight in the backswing.
Followed by. . .

2 sets of:

Interval 1 – Box Jump-Up To Full Support x 4-7

Interval 2 – Rowing Transitions on Low Rings x 5-7 reps
Followed by. 2 sets of:

Interval 1 – Speed Swings x 3 reps Interval 2 – Rowing Transition Lifter on Low Rings x 6 reps
Need a reference? Check out:

https://www.youtube.com/watch?v=UzIAr_iDi0Q&list=PLS5lovy8j9XaTsjSh9g3Ue7fEXD2oDDG9