Wednesday, July 18th: CrossFit
Alpine CrossFit – CrossFit
Announcements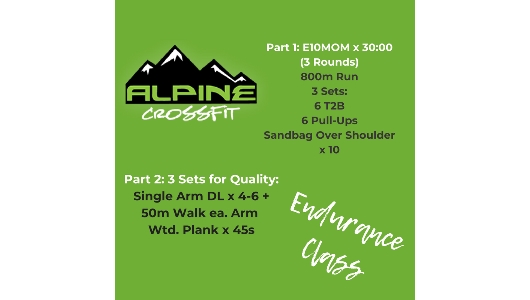 ,
Warm-up
Warm-up (No Measure)
400m Run, then…
Reverse Tabata (10s On/ 20s Rest) x 2:00 ea. Station

1- MB Hug Switch Step-Ups (Quick & Explosive)

2- Burpee Broad Jump

3- CrossOver OHS Tempo (3331; This will be 1 Rep in the 10s)
Switch Step-Ups:

https://www.youtube.com/watch?v=PwxbokEl_UY
Banded OHS (Use CrossOver):

https://www.youtube.com/watch?v=txqsPFakHzk&t=99s
Strength EMOM
Back Squat (3-3-3-5-5-5-3-3)
E2MOM x 16:00= Back Squat

Sets 1-3= Pause Back Squat at 45,55, & 65%. Then…

5-5-5 at 75%

3-3 at 80%
Metcon
Metcon (Time)
3 Rounds for Overall Time (Including Rest):

20/15 Calorie Assault Bike

-Rest 45s

8 Box Jumps w/ Step Down (24/20)

-Rest 45s

Power Snatch 1.1.1.1.1 at 60%

-Rest 45s
Scales:

15/12 Calore Assault Bike (Aim for approx 30s).

Step-Ups

Lighten Load on P. Snatch OR Explosive Snatch Pull x 6
Coaches Note:

Power Snatches are 5 Singles (No TnG)
Cool Down
Metcon (No Measure)
400m Sandbag/Heavy MB Hug, then…
Banded Tall Lunge x 60s ea. Leg

Pigeon x 60s ea. Leg

2-3 Sets for Quality:

Banded External Rotation (Over Shoulder) x 8-10

Copenhagen Plank (Foot on J-Hook) x 20-30s Hold ea.

Wtd. Plank x 45s
Extra Gains
Extra Gains: Gymnastics Series

Today's extra is geared toward volume & skill at Toes 2 Bar. The Arrows lead you into the more difficult of the gymnastics progression. Be sure build up & feel out the technical work at each component before deciding what your working sets will be.
Metcon (No Measure)
2 sets:

8 kipping knee to chest

->kipping t2b

->strict t2b

8 kipping 1/2 t2b

->v-ups

->straddle ups on bar

60sec bouncing knee to chest
Straddle Ups On Bar:

https://www.youtube.com/watch?v=2rNpk3vQm1c&feature=youtu.be