Wednesday, February 6th: CrossFit
Alpine CrossFit – CrossFit
Announcements
Endurance
Warm-up
General: "Rowling" x 6 Rounds (Penalty= Squat Lateral Jump ea. Side) Specific:

-30s Plank

-180 Degree Jump & Rotation x 10

-High Pull Banded Hold w/ Lateral Walks x 6 Steps ea. Side

-Single Leg Hop x 50′ ea.
Metcon (AMRAP – Reps)
Alt E2MOM, for 20 minutes(5 times at each station):

-Interval 1 = 1:10 Rowing Cals

-Interval 2= 1:10 Shuttle Sprint.

**Each 50ft length of the sprint is one rep.**
Performance= Alt. E2MOM x 20:00=

1- 1:10 Rowing at Moderate Pace

2- 30s Slalom on top of Plate
Cool Down
-3 min AB Recovery

-Spend 5 minutes Foam Rolling.
Endurance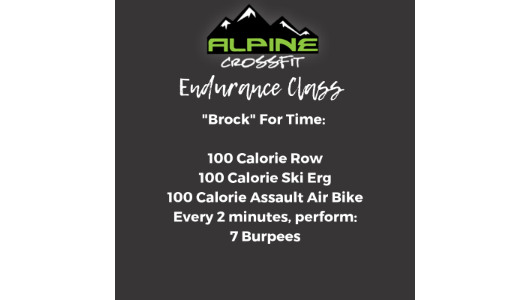 Right before Christmas, 2018, "a member of the Kato CrossFit Family was given some awful news. His son, Brock, would have to have a bone marrow transplant and undergo chemotherapy. Brock has ALD (adrenoluekodystrophy), a genetic disease that severely affec
Brock (Time)
100/80 Calorie Row

100/80 Calorie Ski Erg

100/80 Calorie Assault Air Bike

Every 2 minutes, perform:

7 Burpees