Wednesday, February 27th: CrossFit
Alpine CrossFit – CrossFit
Announcements
Endurance Class + Last Guided Open Gym Class Announcement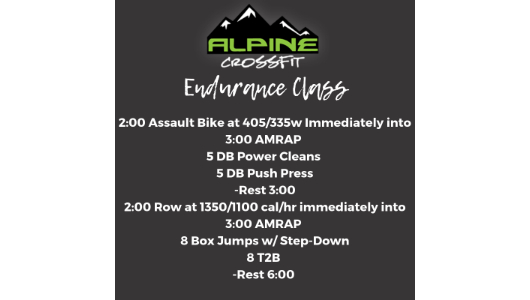 Jump-Rope + Body Weight Warm-Up (No Measure)
2 Sets:

30s Single Skips

8 Sampson Lunge

30s Alternating Legs Jump Rope

8 Inch Worm

30s Lateral Jump Rope

8 Plow to Straddle

30s Double Under Practice
Then, 3-5:00 Hip Mobility.
Warm-up
Specific: 3 Rounds:

-10 Alt. Squat Jump w/ Single Leg Landing

-Feet Assisted Dips x 3 (Pause x 2s at Top & Bottom ea. Rep)

-FLR x 20s Hold
Metcon (AMRAP – Reps)
24 min EMOM:

-Minute 1=15s MB Hug Bear Hug Squat Jump (1/2 Squat; 30/20)

-Minute 2= Tempo Ring Dips x 6-8 (2222)

-Minute 3= 25s DU + Max Sandbag Bear Hug Lunges in remainder of minute

-Minute 4: Rest

**Score= Combined Squat Jumps & DU's.**

**Performance = Same**
Cool Down
-2 minute Foam Roll of Quads,each leg

-Piked Calf Stretch x 60s,each leg

-3 Position Banded OH Stretch x 30s each arm, each posititon.
Endurance
A: Metcon (2 Rounds for reps)
3:00 AMRAP

5 DB Power Cleans

5 DB Push Press

-Rest 3:00
Metcon (2 Rounds for reps)
3:00 AMRAP

8 Box Jumps w/ Step-Down

8 T2B

-Rest 6:00