Wednesday, February 20th: CrossFit
Alpine CrossFit – CrossFit
Announcements
Endurance Class: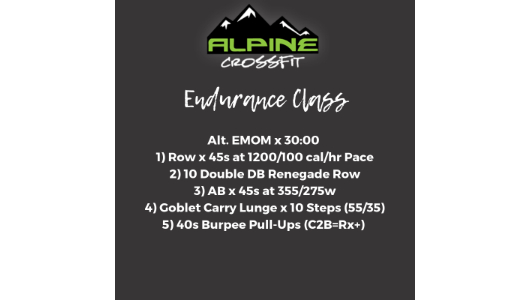 Warm-up
General: Partner MB Warm-Up Tosses x 1:00 ea.

-Granny

-WB Toss

-Lateral

-Over the Shoulder

**3 Burpee penalty for dropping**
Specific: 3 Rounds for Quality:

-Squat Lateral Jump w/ Single Leg Landing (Hold landing x 2s) x 8 (4 ea. Side)

-Ring Row x 8 @2222 Tempo

-Split Stance Muscle Clean (DB's) x 3 ea. Side/Split

-Plank x 20s
Metcon (AMRAP – Reps)
24 minute EMOM:

-Minute 1: 4 DB Split Cleans, each leg(50/35#)

-Minute 2: 2 sets of 4-6 UB CTB

-Minute 3: 25s Max DU + 30s Sandbag hug at bottom of Squat

-MInute 4: Rest

**You shall score this as total reps of DU and CTB combined**
Performance: Alt. EMOM x 24 Minutes:

1) Farmers Carry Step-Ups x 8-10 (Explode Up, control down)

2) Every 30s= 3-5 Strict/Banded Pull-Ups

3) 10 Plate Calf Raises (45lb Plate; Hold at Top x 2s) + Air Squat Hold x Remainder of the Minute

4) Rest
Cool Down
-Partner Foam Roll of Calves x 90s, each leg

-3 Position Banded Overhead stretch x 60s, each position, each arm.
Metcon (AMRAP – Rounds)
Alt. EMOM x 30:00

1) 45s Row at 1200/1000 cal/hr

2) 10 DB Renegade Rows

3) AB x 45s at 355/275w

4) 10 Goblet Carry Lunge (55/35)

5) 40s Burpee Pull-Ups (Rx+=C2B)
Max Score= 30 Rounds

-You miss a round if the task & pace is not kept.