Wednesday, August 8th: CrossFit
Alpine CrossFit – CrossFit
Announcements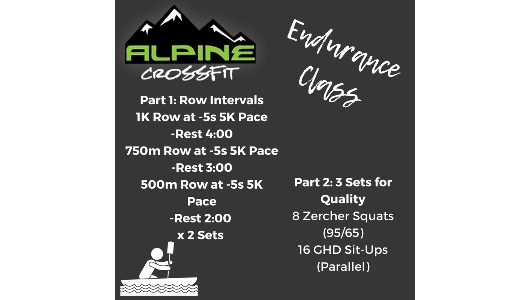 Warm-up
Warm-up (No Measure)
Warm-Up:

Part 1: 25/20 Calories on AB (200-300w), then..
4 Rounds w/ Partner:

Partner A – Single Leg Deadlift touching opposite hand to opposite foot (Keep back Flat!) x 10 ea.

Partner B – Pistol Squat to a Bench

10 Repetitions
then…

2 Rounds w/ Partner:

Partner A – Lateral Banded Walks with High Pull= 5 Steps + 5 Pulls x 3 ea. Direction

Partner B – 15/12 Pushups, scale to knees if necessary
Strength EMOM
Back Squat (E2MOM x 16:00: 1-1-1-4-4-2-2-2)
First 3 Singles at 55,65,75%, then…
2×4 at 82.5%

3×2 at 87.5%
Metcon
Metcon (Time)
4 Sets for Total Time

A1) 50 Double Unders

-Rest 30s

A2) Ring Dips x ME UB

-Rest 30s

A3) Power Clean 1.1.1.1.1 (155/105)

-Rest 30s
Rx+ Option:

75 Double Unders

Ring Dips Must be over 8 Repetitions

Power Clean 185/115lbs
Record Ring Dips as a Second Score
Double Under Scaling:

2:1 Single Unders OR 30s DU Practice
Ring Dip Scaling:

Banded Dips w/ Tempo 31×1

-Must Maintain Tempo including 1s at top.

Tempo Push-Ups 31×1

*Further scaling should be Tempo Push-Up variations.
Power Clean Scales:

-Scale weight for a Non-Hesitation Weight. We're looking for minimal ground time despite having to break into singles.
Cool Down
Metcon (No Measure)
Cool-Down Series:

Banded 3-Way OH Stretch x 45-60s ea. Variation ea. Arm

Crossover Sym. Recovery Series (Take time on the tempo!)
Extra Gains
Extra Gains Rest Day! Not the normal schedule but if you are eager to get some extra work in, give the 5K Paces from Monday a try!
Thursday will be Functional Body Building & Friday will be gymnastics Skill work!