Wednesday, August 29th: CrossFit
Alpine CrossFit – CrossFit
Announcements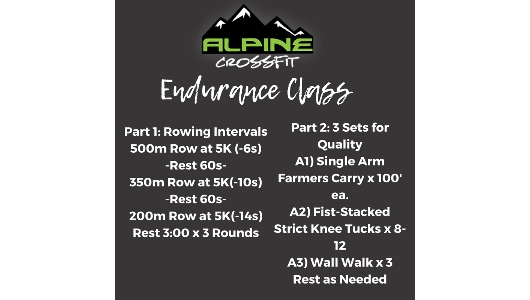 Warm-up
Warm-up (No Measure)
General Warm Up:

Around the World Burpee Relay!
then…
2 Rounds

A – Wall Sit with 10 Front Raises (10-15lbs)

B – 10 Lateral Box Step Overs

C – 10 Alternating Single Leg Deadlifts

D – 10 Single Leg Squats to Bench/Box
then…

2:00 Front Rack Mobility

-Single Arm Banded Front Rack MOB
then…

Front Squat Technique Review

-Stance

-Rack Position

-Tempo Front Squats (Coaches Command)
Strength (not for time)
20:00 Clock to Establish your 1-Rep Max Front Squat

-Make smart jumps & build over the 20:00 clock. Max attempts should be taken in the last 4-6 Minutes of the time.
Front Squat (1-1-1-1-1-1)
Cool Down
Metcon (No Measure)
Cool-Down Series:

400m Jog

Cobra Stretch x 60-90s

Couch Stretch x 60s ea. Leg

2 Rounds:

10 Cat-Cows

GHD Hip Extension x 6-8 +20s Hold at Top of Final repetition.
Extra Gains
Aerobic Building! You've just devoted your strength & energy to 10-15 Repetitions of Front Squats. Now let's go to the other side of the spectrum with Aerobic Pacing. Give Part 1 of the Endurance Class a go!