Wednesday, April 18th: CrossFit
Alpine CrossFit – CrossFit
Announcements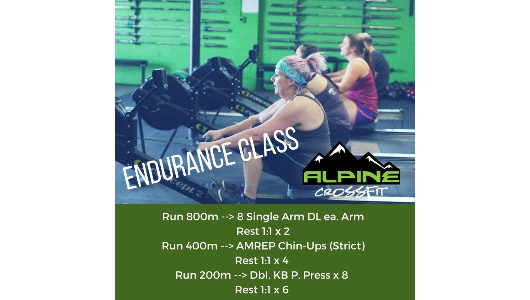 Warm-up
Full Body Warm-Up D Modified (Power 10) (No Measure)
8 Minute AMRAP:

15 Air Squats + 15 Push-Ups

3 Foot-Hooks on Rope + 3 Wall Walks

10 Scorpions on Stomach & Back (5 ea. Side)

20 Walking Lunges & 5 Burpee's
Metcon
Metcon (4 Rounds for time)
Metcon: 4 Sets (Rest 1:1)

2 Rope Climbs (4 Lying Climb to Standing)

6 Ring Dips (20×1)

8 DB Hang Power Clean (50/35)

100′ Farmer Walk (w/ DB's)

-Each Round is For Time.

Note: Indoor Ropes (10-12′) you are not allowed to jump. Secure foot-hook with hands at eye level then continue to climb. Outdoor ropes you may jump to a secure foot-hook position.
Strength (not for time)
A1: Push-ups (ME-ME-ME (AMREP -3))
AMREP -3= Leave 3 in the Tank
A2: Ring Rows (ME-ME-ME)
AMREP -3

Rest 60s before Returning to A1
Cool Down
Metcon (No Measure)
Cool-Down Series:

Barbell/LAX Pec Roll out x 30-45s ea. Side

Barbell/LAX Trap-Release x 30-45s ea. Side

CrossOver Symmetry Recovery Series (Pay attention to Tempo)
Extra Gains
Metcon (No Measure)
Perform 2-3 Rounds for Quality/Pump:

15 Banded Tricep Extension (Neutral Grip)

10 Hollow Body Rocks

12 DB Curl (Supinated Grip: 2121)