Tuesday, June 26th: CrossFit
Alpine CrossFit – CrossFit
Announcements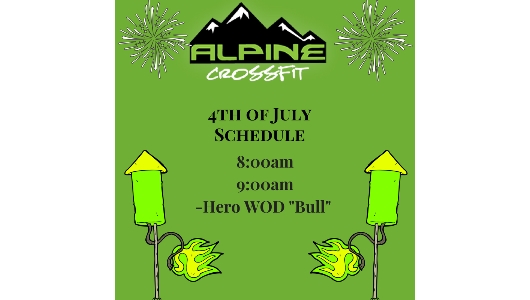 Don't forget! 4th of July is Next Wednesday and we will only have 8 & 9am Class times for "Bull)
Warm-up
Full Body Warm-up D (No Measure)
8 Minute AMRAP

After two movements, complete a "Power 10" on the Assualt Bike (Sprint 10 secs)

– 10 Plow to Straddle

– 10 pass through & round the world

– 10 Scorpions (stomach & back)

– 20 OHS/Sampson Lunge

– 10 downward dog to cobra
Metcon
50/40 Assault Bike Calories For Time (Time)
Accumulate 50 Calories on Assault Bike as Fast as Possible
In-Balance Strength
A1: Briefcase Carry (Single Arm Farmers) (100-100-100′ ea. Arm )
A2: Wall-Sit w/ MB Hold (45-45-45s)
Wall-Sit at Parallel with a MB between your knee's.
A3: 45 Second Sorrenson Hold (45-45-45s)
Set up on the GHD similar to the Hip Extension. Athletes will hold their position (chest parallel to the floor) for 45 seconds. Plate hugs will make this more challenging.
Cool Down
Metcon (No Measure)
Cool-Down Series:

Foam Roll Quads & Hips x 60s ea. Leg

Banded Figure-4 x 45-60s ea. Leg with Hip Bridge
Extra Gains
A1: GHD Hip Extension (10-10-10)
Face-Down on GHD, pads are in the middle of quads to allow for an uninterrupted hip movement. Descend the upper body while maintaining a straight back. Tension should build in the hamstrings and slightly in the glutes/lower back. Achieve 90 degree's, then return to a flat and engaged upward position (Use glutes to lock top position). Controlled the Eccentric Portion.
A2: Feet in Rings Knee Tucks (30-30-30s)
Plank position with Feet in Rings.

Maintain Hollow Torso/Back & Tuck knee's into chest, then return to a fully extended plank position.