Tuesday, June 19th: CrossFit
Alpine CrossFit – CrossFit
Announcements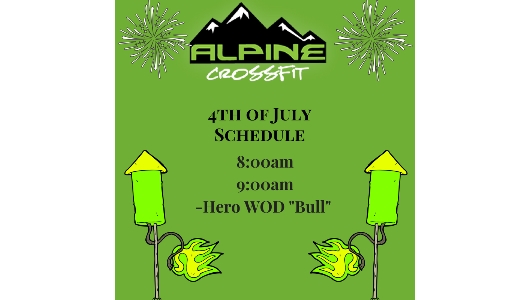 Warm-up
Full Body Warm-up D (No Measure)
8 Minute AMRAP

After two movements, complete a "Power 10" on the Assualt Bike (Sprint 10 secs)

– 10 Plow to Straddle

– 10 pass through & round the world

– 10 Scorpions (stomach & back)

– 20 OHS/Sampson Lunge

– 10 downward dog to cobra
2 Sets: Leg Swings

Forward & Backward x 10-15

Lateral (Across body) x 10-15
Metcon
Today's Metcon(s) will each be performed 3 sets. Athletes will perform Part 1 for Time, rest 90s, Part 2 for Repetitions, rest 90s, then Part 3 for time before Active Recovery for 3:00. Then, upon the end of the Active Recovery, start back at Part 1. Goal is to have comparable results throughout the entirety of the workouts.
1: Metcon (3 Rounds for time)
3 Rounds FT:

8 Kipping Pull-Ups

8 SB Hug Step-Up (3/2 Inserts)
-Rest 90s before Part 2
2: Metcon (3 Rounds for reps)
1:30 AMRAP

Manmakers (35/25)
-Rest 1:30 before Part 3
3: Metcon (3 Rounds for time)
2 Rounds for Time

10 Kipping T2B

200m Run (Weather Dependent)
-Rest 3:00 on Rower or Assault Bike at Recovery Pace before returning to Part 1.
Cool Down
Metcon (No Measure)
Cool-Down Series:

Foam Roll Quads & Hip Flexors x 60s ea.

Banded Tall Lunge Hold x 60s ea. Leg

60s Cobra Stretch into 60s Downward Dog

Reverse Plank 2x 1:00
Extra Gains
A1: DB Floor Press (6 ea. Arm x 3 Sets )
(Neutral Grip) x 12 -Rest 60s
A2: Strict Chin-Ups (6-6-6)
Heaviest set of UB 6 Reps.