Tuesday, January 16th: CrossFit
Alpine CrossFit – CrossFit
Announcements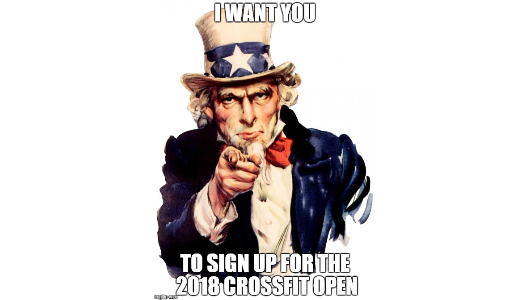 Warm-up
Full Body Warm-up D (No Measure)
8 Minute AMRAP

After two movements, complete a "Power 10" on the Assualt Bike (Sprint 10 secs)

– 15 Air Squats and 15 Push-Ups

– 3 Wall Climbs and 10 Star Jumps

– 5 Scorpions per side (on back) and 5 Scorpions per side (on stomach)

– 20 Steps Walking Lunge w Stretch (10/side) and 5 Burpees
Metcon
A1: 3:00 Max AB Calories (Calories)
Rest 6:00 after
A2: Metcon (Time)
3 Rounds (Rest 60s b/w Rounds)

10 KB HP Clean (R)

10 Front Rack Lunge (Right Side)

10 KB HP Clean (L)

10 Front Rack Lunge (Left Side)
For Overall Time Including Rests
Rest 6:00
A3: Russian Kettlebell Swings (2:00 Max Effort )
Cool Down
Metcon (No Measure)
Cool-Down Series:

Light AB/Row x 3:00

Paleo Chair Accumulation x 2:00

Banded Lunge OR Couch Stretch x 60s ea. Leg

Foam Roll/LAX on Glute & TFL x 30s ea.
Extra Gains
A1: Barbell Row (8-8-8)
A2: Landmine Floor to Overhead Rotations (10-10-10)
Start with mobile end of barbell on one side of the body. In a raising and rotating motion, bring to overhead & out in front of body in an athletic stance. Then return to opposite side of the body all the way to the floor.