Tuesday, February 6th: CrossFit
Alpine CrossFit – CrossFit
Announcements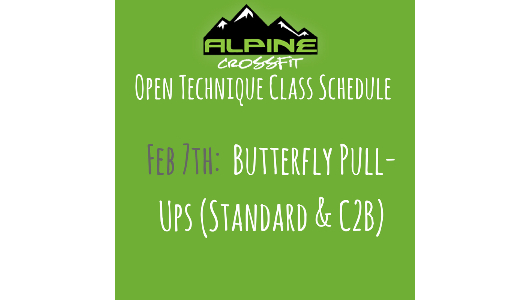 Warm-up
Full Body Warm-up E (No Measure)
Warm-Up:

1:00 Couch or Pigeon Stretch per side (athlete choice)

1:00 each way on 3-way overhead mobility

…then…

2 Rounds

10 Air Squats

10 Push-Ups

10 Scorpions on Stomach (5/side)

10 Front Squats w Empty Bar

10 Kips on Rig or 10 Pull-Ups
Strength (not for time)
Front Squat (Est. 1RM in 15 Minutes)
Suggested Build Up:

5 at 60%

4 at 65%

3 at 70%

3 at 75%

2 at 80%

1 at 85%

Continue singles based on feel to at/above a new 1RM.
Metcon
CF Mini-Tri (Indoors) (Time)
For Time:

1-Mile AB

50 Box Jump w/ Step-Down

1K Row
Cool Down
Metcon (No Measure)
Cool-Down Series:

Foam Roll Calf & Quad on ea. Leg x 30-60s (Hold in tender spots)

Banded Hamstring Floss x 60s ea. Leg (Use active release by pulling for a short hold, then bending & releasing pressure a few times each leg).

Seated Straddle Stretch x 90s-2:00

Accumulate 2:00 Cobra/Sphynx Position
Extra Gains
GHD Hip Extension (15-15-15)
Face-Down on GHD, pads are in the middle of quads to allow for an uninterrupted hip movement. Descend the upper body while maintaining a straight back. Tension should build in the hamstrings and slightly in the glutes/lower back. Achieve 90 degree's, then return to a flat and engaged upward position (Use glutes to lock top position). Controlled the Eccentric Portion.
Metcon (No Measure)
Focused Skill Session: Handstand Walk

-Spend 10-15 Minutes working your skills at Handstand Walking. To build into it, try a few drills found here: