Thursday, October 25th: CrossFit
Alpine CrossFit – CrossFit
Announcements
24 Hour Access Coming SOON! Early bird commitment gets you 24 Hour access to Alpine for just $15/month on top of membership. Any sign ups after Thanksgiving will be $20/month.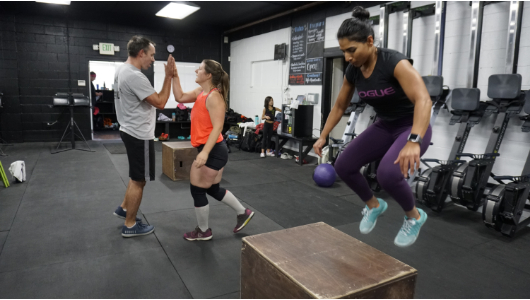 High fives anyone?
Warm-up
Warm-up (No Measure)
General Warm-Up: 500m Row
Part 2: 3

Rounds for Quality:

-Wall Sit w/ Double Plate Press Up Wall x 10 (Slow and Controlled)

-Single Leg Box Squat & Jump x 5 ea. Leg

-Banded Lat Pull Down & Overhead x 10
Metcon
Metcon (3 Rounds for time)
Every 8 minutes, for 24 minutes(3 Sets):

-500m Row

-25 Wall Balls(20/14#)

-12 Pull ups
PoP:

-We are shooting for close to a 1:1 rest & work ratio.

– 500m Row Pace should support the following tasks, not hinder them.

-Scales should aim for WB Weight & Pull-Up Variation.
Pull-Up Scaling:

-Strict Banded Pull-Ups

-Ring Rows
Strength (not for time)
Warm-up (No Measure)
Post-Workout: 15 minutes to complete

3 Rounds of:

-RNT Lunges x 8, right leg

-Single Arm Plank x 30s, Left Arm

-RNT Lunge x 8, left leg

-Single Arm Plan x 30s, Right Arm.

RAN Between sets.
Cool Down
Foam Roll Quads, Lats & Back

Cobra Stretch x 60-90s

Banded Bully x 45-60s ea. Arm