Thursday, October 18th: CrossFit
Alpine CrossFit – CrossFit
Announcements
About 40,920 women in the U.S. are expected to die in 2018 from breast cancer, though death rates have been decreasing since 1989. Women under 50 have experienced larger decreases. These decreases are thought to be the result of treatment advances, earlier detection through screening, and increased awareness. Don't forget about our Barbells 4 Boobs Saturday morning! We'll have Teams of 3, Pairs, and singles workouts and everyone wearing their PINK!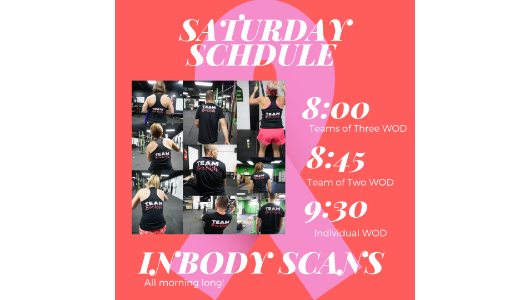 Saturday we will have 3 different WOD times!
Warm-up
Warm-up (No Measure)
General Warm-Up: PVC Warm-Up

3 Rounds:

50′ Double Farmers High Knee March w/ Pause ea. Step

OH Banded Alphabet ea. Arm

Superman to Hollow Rolls x 10
2 Sets:

Partner Dead Hang (Active Shoulders)

Active Push x 15s
Shoulder Press
Every 2 minutes, for 10 minutes(5 Sets):

-3 Strict Shoulder Presses.
**Recording Heaviest Set of 3.**
7 minute of Burpees to 6″ Target (AMRAP – Reps)
Points of Performance:

1- No matter how fast you go, it's 7:00 of Work….

2- Even if it's slow, keep moving!

3- Have a number in mind? What EMOM is needed to achieve it?
Cool Down
LAX Ball in Pec & Anterior Deltoid +Banded Bully x 60s ea. Arm

2 Sets:

-Banded External Rotation

-Press to OH x 6-8 ea. Arm
Warm-up (No Measure)
LAX Ball in Pec & Anterior Deltoid +Banded Bully x 60s ea. Arm

2 Sets:

-Banded External Rotation

-Press to OH x 6-8 ea. Arm