Thursday, April 26th: CrossFit
Alpine CrossFit – CrossFit
Announcements
Cinco De Mayo Regional Fundraiser! May 5th, we'll have Partner Workouts in Heats, Breakfast Burritos, and Spikeball! All in efforts to raise some funds to help our regional athletes' trip to Salt Lake City to represent Alpine CrossFit! Heats will start at 8:00am and Run every 30 minutes with a different workout. Secure your partner soon!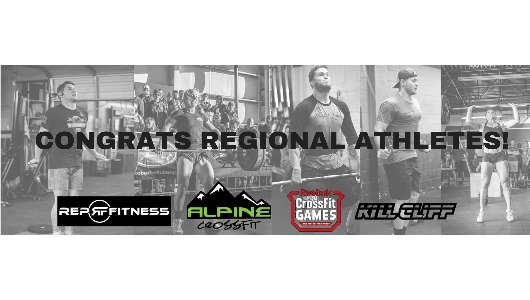 Warm-up
Full Body Warm-up A (No Measure)
Run 400

Two sets of:

30 Second Side Plank (left)

30 Second Scapular Circles from Push-Up Position

30 Second Side Plank (right)

30 Second Supinated-Grip Hang from Pull-Up Bar

Rest 30 seconds

12 Alternating Bowler's Squats

12 Alternating Cossack Squats

12 Band Pull-Throughs

Rest as needed
Metcon
A: Metcon (AMRAP – Rounds and Reps)
7:00 AMRAP

8 Alt. DB Snatches (50/35)

6 Burpee Over DB

4 DB Goblet Squat

-Rest 4:00
Strength (not for time)
B1: Strict Chin-Ups (ME-ME-ME (AMREP -2))
Tempo: 31×2

Rest 30-60s
B2: Floor Press + Turkish Get-Up Combination (6+2/ 6+2/ 6+2)
Perfor the designated number of single arm floor press. Then, upon extension of the final repetition begin the designated number of turkish get-ups. Finish on one side prior to starting the other.
6 Single Arm Floor Press + 2 Turkish Get-Ups

Rest 60-90s
Metcon
C: Metcon (AMRAP – Reps)
3:00 AMRAP

Man-Makers (35/25)
Cool Down
Metcon (No Measure)
Cool-Down Series:

Light 400m Jog/Walk

Barbell Pec Smash x 30-45s

Lat Head Roll Out x 30-45s

Banded 3-Way OH Stretch x 45-60s ea.
Extra Gains
CrossOver Symmetry IronScap Series (1 Series for Quality )
*See IronScap Char on CrossOver Chart*