Monday, November 5th: CrossFit
Alpine CrossFit – CrossFit
Announcements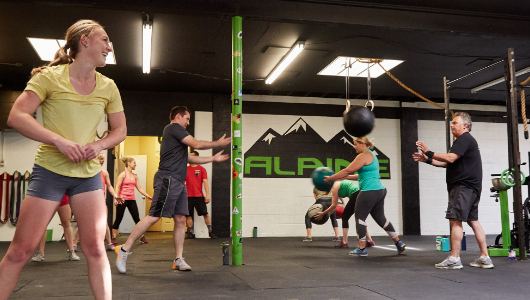 Who's excited to get this week started?
Announcements
Everyday Warrior Series Deadline for WOD 1 is today! Have you OFFICIALLY signed up?
We understand the 24/7 hour access is not for everyone, and that is totally okay! If you are not intrested in 24/7 access, we are going to have those athletes offically "Opt Out" of it this week, here's why…https://www.youtube.com/watch?v=UsEZVqfPGM8
Warm-up
Partner AB:

2 Rounds of:

Partner Shoulder Only (Chest on Seat) AB x 30s while Partner Holds Plank

Part 2:

2 Rounds:

-Kang Squat w/ Plate Hug & Raise at Bottom of Squat x 10

-Lateral Bear Crawl (Length of Rig ea. Side)

-OH Banded Alphabet ea. Side
Deficit DeadLift
Standing on no bigger than 45# Plate.
E2MOM x 8:00(4 Sets)=

3-Rep Deficit starting at 87% of 5RM (2 Weeks Prior) and building
Metcon (3 Rounds for time)
Every 7 minutes, for 21 minutes(3 Sets):

-20 Plyo Push Ups

-20 Power snatches(95/65#)

-20 Pull ups
PoP:

1- Looking for repeatable efforts between rounds.

2- Scales should support continual movement with minimal breaks.

3- Each round should take a maximum of 4:00.
Scaling:

Plyo Push-Ups= Single Arm Plate Push Up
Power Snatches= 75/55, 65/45, or Sub. DB Snatch
Pull-Ups= Jumping Pull-Ups/ Ring Rows
Cool Down
Cool-Down:

-LAX Ball in Shoulder (Take your time here! Feel out Pecs, Lat Head, Trap & Sub Scap areas)

-Banded 3-Way OH Stretch x 45s ea.