Monday, May 14th: CrossFit
Alpine CrossFit – CrossFit
Announcements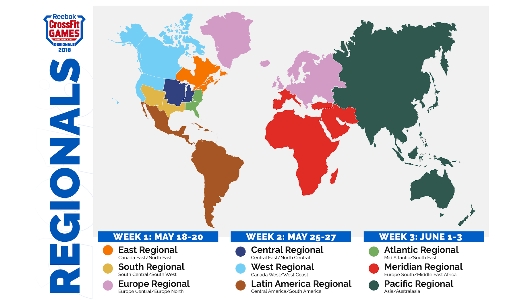 It's Regionals Week! Friday, Saturday, and Sunday our very own Team Alpine & Vinny Casey will be throwing down with the best in the South Region in the next phase of qualifying for the 2018 CrossFit Games! ,It's Regionals Week! Friday, Saturday, and Sunday
Warm-up
Full Body Warm-up E (No Measure)
Warm-Up:

3 Sets of the following-

5 Bird-Dogs ea. Side

20s Side Plank ea. Side

5 Roll-Up Sit Ups (Slow & Controlled)

…then…

2 Rounds

10 Air Squats

10 Push-Ups

10 Scorpions on Stomach (5/side)

10 Front Squats w Empty Bar

10 Kips on Rig or 10 Pull-Ups
Metcon
"Sage at 20" (AMRAP – Rounds and Reps)
20 Thrusters (135/95 lb)

20 Pull-ups

20 Burpees
-Note: Choose a challenging but capable weight.
Scales:

Thruster: 115/75, 95/65, 55/35

Pull-Ups: Banded Strict Pull-Ups, Jumping Pull-Ups

Burpee's: Box Burpee's.
Cool Down
Metcon (No Measure)
Cool-Down Series:

LAX/BB Roll

-Hip Flexor

– Pec/Shoulder

-Lat Head

3-Way Banded OH Stretch x 30-45s ea.
then, 2-3 Sets

KB Arm-Bar x 2-3 ea. Arm

Tall Lunge Hold x 30s ea. Leg
Extra Gains
A1: Single Arm DB Row (6-6-6-6)
(2s Pause at the Top)
A2: Top of Ring Postiion Hold (1-1-1-1)
x 20-30s. Rest 2 min
A3: 45 Second Sorrenson Hold (45-45-45-45)
Set up on the GHD similar to the Hip Extension. Athletes will hold their position (chest parallel to the floor) for 45 seconds. Plate hugs will make this more challenging.