Monday, June 4th: CrossFit
Alpine CrossFit – CrossFit
Announcements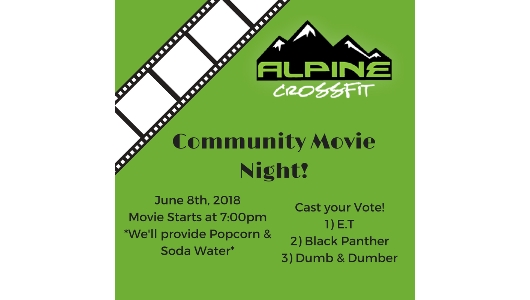 E.T? Black Panther? Dumb & Dumber? Cast your vote online or let the coaches know! We'll decide this Thursday what our first Community Movie Night Showing will be!
Warm-up
Clean and Jerk Warm up (No Measure)
3:00 Row/AB, then..
Front Rack MOB x 2-3 Minutes (Athletes Choice):
2 Rounds, 6 Reps each:

-Clean grip Romanian DL

-Clean Pull

-Front Squat

-Hang Clean and Press

-Clean and Push Jerk

—-Add Weight—–

-Power Clean and Push Jerk

-Clean and Jerk
Weightlifting
Clean and Jerk (12:00 to Est. 1RM )
Metcon
NME= Neuromuscular Efficiency

-Lifting heavy is AWESOME, but in CrossFit you need to be able to move weight relative to whats heavy. Thats why we assess NME. We want to see how efficient you are at cycling high intensity. Having said that, this assessment/metcon needs to be methodical. If you can TnG the barbell…GREAT! If not, try to minimize rest and hold yourself to a tempo. Make the most out of the 5:00
Power Clean NME Assessment (AMRAP – Reps)
5:00 AMRAP

Power Cleans at 80% of Max for the Day
Cool Down
Metcon (No Measure)
Cool-Down Series:

400m Jog/Walk (Deep breath)

LAX in Pec, Trap, Deltoid x 30-60s ea. Shoulder

Cat-Cow x 30s

Supinated Hang x 45-60s Acc.

Banded OH Stretch x 60s ea. Arm

Banded Internal Rotation (Over Shoulder) x 15-20 Repetitions ea. Arm (4s Eccentric)
Extra Gains
Today's Metcon was all about Heavy Lifting and High Neuromuscular Output….Let's relax the system!
Metcon (No Measure)
30:00 Sustained Aerobic Work

-Alternating every 3-5:00 between Bike, Run/Jog, Single Skips, Step-Ups, or Ski.