Monday, January 29th: CrossFit
Alpine CrossFit – CrossFit
Announcements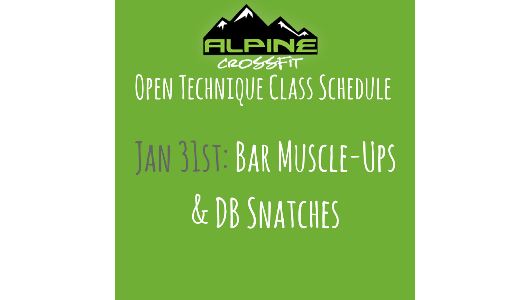 Warm-up
Full Body Warm-up E (No Measure)
Warm-Up:

1:00 Couch or Pigeon Stretch per side (athlete choice)

1:00 each way on 3-way overhead mobility

…then…

2 Rounds

10 Air Squats

10 Push-Ups

10 Scorpions on Stomach (5/side)

10 Front Squats w Empty Bar

10 Kips on Rig or 10 Pull-Ups
Strength EMOM
Front Squat (E2MOM x 12 Minues= 3-Rep)
Start at 65% and Build; No misses!
Metcon
Metcon (3 Rounds for reps)
3 Rounds; Each for Repetitions

60s Box Jump Overs (24/20)

Rest 2:00

60s DB Hang-Clean (Full Squat; 50/35)

Rest 2:00
Masters Rx (50+)= 20in Box + 35/25
Note: Must face box on jump!
Cool Down
Metcon (No Measure)
Cool-Down Series:

Foam Roll Calf & Quads x 30-45s ea.

LAX on Trap x 30s ea.

Acc. 60-90s Banded Lunge ea. Leg

Accumulate 20 Banded Face Pulls OR Banded Single Arm Row x 15 ea. (Slow and Controlled)
Extra Gains
GHD Hip Extension (12-12-12 )
Face-Down on GHD, pads are in the middle of quads to allow for an uninterrupted hip movement. Descend the upper body while maintaining a straight back. Tension should build in the hamstrings and slightly in the glutes/lower back. Achieve 90 degree's, then return to a flat and engaged upward position (Use glutes to lock top position). Controlled the Eccentric Portion.
Banded Pallof Press (10-10-10)
Standing profile to the ri (where band is attached at shoulder height). Holding the band with both hands, slow & controlled pressing away from the midline and then back into the midline. Stance is athletic & resisting the rotation the band is trying to promote through the press.