Monday, January 15th: CrossFit
Alpine CrossFit – CrossFit
Announcements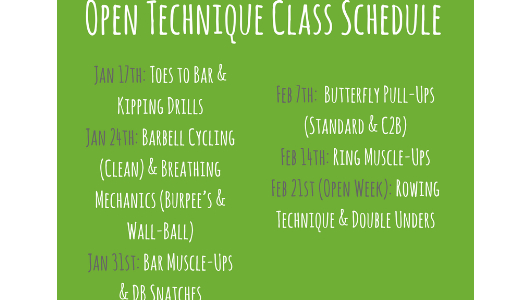 Class reservations are OPEN! This weeks Open Technique class is Toes to Bar & Kipping Drills to better help you for some gymnastics elements you know will show up in a few weeks!
Warm-up
Squat & Front Rack Warm-Up (No Measure)
3:00 Row OR Assault Bike, then…
Perform 25-30 Squat Therapy Wall-Squats (Readjust every 5 Reps)

-Focus on getting closer to wall and deeper squat position. Then…
3 Rounds:

KB Front Rack Lunge x 6 ea. Side

Inch-Worm x 6

Goblet Squat & Hold x 30s w/ Hip Internal & External Rotation
Strength EMOM
Front Squat (E3MOM x 12 Minutes = 3-Rep )
Start at 60% and Build
Metcon
Metcon (AMRAP – Reps)
Alt. EMOM x 15 Minutes

1- DB Thruster x 8 Unbroken (50/35)

2- 15s ME Pull-Ups

3- 30s ME Box Jump w/ Step-Down
Score= Combined Pull-Ups & Box Jump Repetitions.

Note: In order to receive "Rx" or "Rx+" you must perform every set of Thrusters Unbroken.
Rx+= C2B Pull-Ups
Masters Rx (50+)= 45/25
Scales:

– Thrusters: Scale the Weight for Unbroken Reps.

-Pull-Ups: Banded Pull-Ups

-Box Jump w/ Step-Down: Lower the box OR Step-Up & Hop down (Work landing position)
Cool Down
Metcon (No Measure)
Cool-Down Series:

Accumulate 2:00 Straddle Stretch (Breath!)

20 Scap-Retraction Push-Ups w/ Fingertips outward from body.
Extra Gains
A1: Sumo-Stance Good Morning (8-8-8)
Plate Hug

3121 Tempo
A2: GHD Sit-Up Static Hold (45-45-45s)
Try to maintain a completely parallel position to the floor in the GHD Sit-Up Position