Monday, February 19th: CrossFit
Alpine CrossFit – CrossFit
Announcements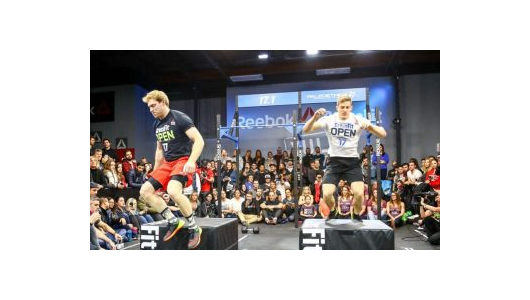 It's Open Week! Last year our first workout was a CRAZY combination of Dumbbell Snatches & Burpee Box Jump Overs. Who thinks they can guess what Open WOD 18.1 is going to be? The correct guess could be worth some Alpine Store Credit!
Warm-up
EMOM Warm-Up 2: (No Measure)
Alt. EMOM x 12 Minutes:

1- 30s Jump Rope + 10 Air Squats

2- 3 Inch-Worms + 5 Kipping Motion

3- 6 Single Arm Russian KBS ea. Arm (Mid-Level Weight)
Banded 3-Way OH Stretch x 30s ea.

Banded Good Morning x 20 Repetitions
WOD Review
Broken WOD Format! We want you to be thinking smooth-transition throughout this workout.
It's a chance to practice skills or scales in quick succession to other WOD combinations you might see. We are thinking every round should be somehwere in the 2-3:00 range. If you start to fall too far outside of that, consider a scaled variation.
Metcon
Metcon (Time)
4 Rounds

6 Kipping HSPU

9 C2B Pull-Ups

12 DB Power Clean (50/35)

15 Box Jump w/ Step-Down

-Rest 60s after each Round.
Rx'd= Flat HSPU, 24/20 Box.

Rx+= UB HSPU & C2B, 70/50lb DB.

Masters Rx (50+)= Hand-Release Push-Ups, Kipping Pull-Ups, 35/25lb DB's, 20in Box Jumps.
Scales:

HSPU= Elevated HSPU (1 Plate & 1 AbMat), 3 Wall Walks, or Piking Variation (Floor/Box).

C2B Pull-Ups= Kipping Pull-Ups, Jumping Chest-to-Bar Pull-Ups, or 2x Ring Rows.

DB Power Clean= Scale Weight

Box Jump w/ Step-Down= Decrease Height or Step-Ups.
Score= Overall Time Minus 4:00.
Cool Down
Metcon (No Measure)
Cool-Down Series:

LAX/Roll Tricep, Upper Trap & Shoulder x 30-60s ea. Arm

Banded OH Stretch x 45s ea. Arm

Banded IR/ER x 15 ea. Arm ea. Movement
Extra Gains
A: CrossOver Symmetry IronScap Series (1 Series )
*See IronScap Char on CrossOver Chart*
Metcon (No Measure)
4 Sets for Stability & Recovery:

2:00 Row at Zone2 Pace (70-75% Effort)

60s Plank Hold

60s Paleo Chair Hold