Monday, February 12th: CrossFIt
Alpine CrossFit – CrossFit
Announcements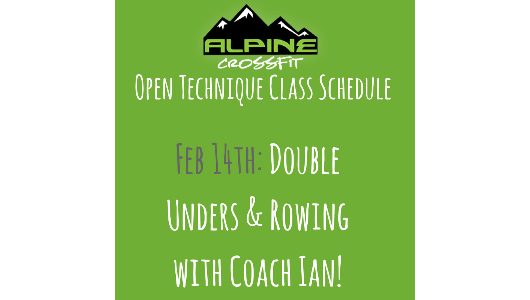 CHANGE TO THE TECHNIQUE SCHEDULE: This Wednesday will be Double Unders and Rowing Technique with Coach Ian at 5:30pm for our Open Skills Prep Class.
Warm-up
Full Body Warm-up D (No Measure)
8 Minute AMRAP

After two movements, complete a "Power 10" on the Assualt Bike (Sprint 10 secs)

– 15 Air Squats and 15 Push-Ups

– 3 Wall Climbs and 10 Star Jumps

– 5 Scorpions per side (on back) and 5 Scorpions per side (on stomach)

– 20 Steps Walking Lunge w Stretch (10/side) and 5 Burpees
Strength (not for time)
Back Squat (8-6-4-4)
8 at 65%

6 at 70%

2x 4 at 75%
Metcon
Metcon (AMRAP – Reps)
Alt. EMOM x 12 Minutes:

1- 3 Power Clean + 3 S2OH at 60-65% Max 2- 8-12 UB Toes to Bar
Score= Total Number of Unbroken T2B

-Note: Complete 8-12 in whatever manner you can. Your score will only be the initial Unbroken set for each of those minutes.
T2B Scales:

Toes to Rings

Kipping Knee Raises (Above Hip Line)

Lying Toes to Rig
Cool Down
Metcon (No Measure)
Cool-Down Series:

Tricep & Lat Roll Out x 60s ea. Side

Banded 3-Way OH Stretch x 30-45s ea.

Banded IR/ER x 15 ea. Direction w/ Each Arm.
Extra Gains
A1: GHD Situps (15-15-15)
A2: Bent Over Row (10-10-10)