Monday, August 27th: CrossFit
Alpine CrossFit – CrossFit
Announcements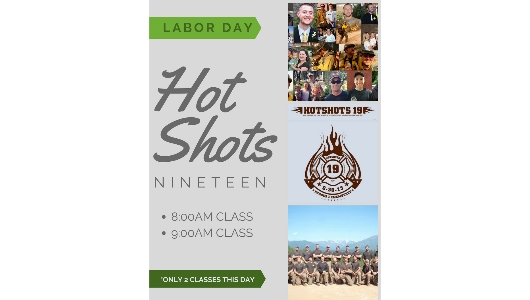 1 Week From today will be Labor Day! A reminder that we will only have 8:00 & 9:00am classes. The WOD will be "Hotshots 19".
Warm-up
Warm-up (No Measure)
Warm up: 3:00 AB, then….
Three rounds

A – Bottoms up KB lunge 10 steps, switch arms, 10 steps

B – 10 Inverted Row

C – Hollow rocks x 10
Then, WOD Prep
Metcon
Metcon (AMRAP – Rounds and Reps)
25:00 AMRAP

35lb Single Arm OH Lunge x 25 Steps

25 Cal Row

Wtd. Knee Tucks w/ MB x 25 Reps (20/14lb MB)
Wtd. Knee Tucks= MB between feet and tuck knee's to above naval level.
Scales:

Weight for OH Lunge

Calorie Row= 18

Wtd. Knee Tucks= Lighter MB or Unweighted
Cool Down
Metcon (No Measure)
Cool-Down Series:

AB/Row x 3:00 at Recovery Pace
LAX Ball in Hip Flexor during Paleo Chair (Deep squat) x 60s ea. Side

Tall Banded Lunge x 60s ea. Leg

Banded Lateral Opener x 45-60s ea. Arm
Extra Gains
Metcon (No Measure)
Midline Static Series: 2-3 Rounds for Quality

Banded Hip Extensions: 10 + 20s Hold at Top of Final Repetitions

Side Plank on Wall x 45s ea. Side

Landmine Anti-Rotations x 5 ea. Side (5151)