Monday 11-11-2013 Happy Veterens Day!
Thank you to all our current service members and veterans! We appreciate your service!
"Perseverance is the hard work you do after you get tired of doing the hard work you already did." – Newt Gingrich
Workout of the Day
"Donny"
21-15-9-9-15-21 reps for time of:
225/155 pound Deadlift
Burpee
Post your scores to the Whiteboard.
DONNY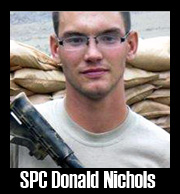 U.S. Army Specialist Donald L. Nichols, 21, of Shell Rock, IA, assigned to the 1st Battalion, 133rd Infantry Regiment, Iowa Army National Guard, based in Waterloo, IA, died April 13, 2011, in Laghman province, Afghanistan, of wounds suffered when insurgents attacked his unit using an improvised explosive device.
He is survived by his mother and stepfather, Roger and Becky Poock; his father and stepmother, Jeff and Jeanie Nichols; and his brothers, Nick and Joe.
First posted August 21 2013