Friday, January 19th: CrossFit
Alpine CrossFit – CrossFit
Announcements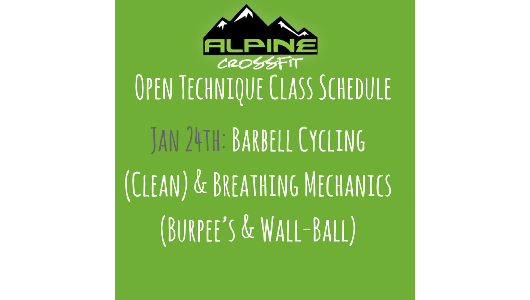 Warm-up
Full Body Warm-up C (No Measure)
"Rowling" 8 Rounds

Land exactly on 100m

For every 1 meter you are off +/- then do 1 burpee
3-way Overhead band stretch :30 Seconds per stretch

Hamstring Flossing :90 seconds each leg
Penalty for 1/19/2018: Sit-Ups (NOT BURPEES)
Generic Warm-up w/ hip activation (No Measure)
: 30 Walking High Knee Karaoke (Right)

: 30 Walking High Knee Karaoke (Left)

:30 Walking Forward Hurdle Drill

:30 Walking Knee Hugs

:30 Walking Cradle Pulls

:30 Walk outs

:30 sumo squat
Then…

10 Lateral Monster walk steps + 10 squats @22×1
Metcon
Metcon (Time)
3:00 On/ 1:30 off x 3 Rounds

-Each Round Cash-In =

10 Box Jump Overs (Facing Box)

10 T2B

ME Wall-Balls (20/14)
-WOD is complete when you finish 100 Wall-Balls.

-Note: Once your 3rd Round Clock Ends (12:00) you will continue to perform Wall-Balls until 100 is completed. If you finish prior to 12:00 on the clock, your time is your score.
Cool Down
Metcon (No Measure)
Cool-Down Series:

Banded Hip-Capsule Stretch (Like Banded lunge, but facing away from rig….and banded leg is front leg) x 60-90s ea.

Banded 3-Way OH Stretch x 30-45s ea. Arm

Accumulate 2:00 Reverse Plank
Extra Gains
Metcon (No Measure)
20:00 Recovery Row

-Focus on breathing through nose & staying relaxed.