Friday, January 12th: CrossFit
Alpine CrossFit – CrossFit
Announcements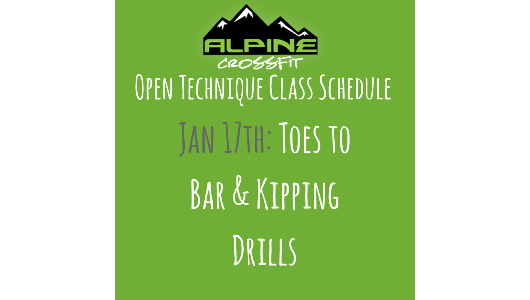 Warm-up
Full Body Warm-up E (No Measure)
Warm-Up:

1:00 Couch or Pigeon Stretch per side (athlete choice)

1:00 each way on 3-way overhead mobility

…then…

2 Rounds

10 Air Squats

10 Push-Ups

10 Scorpions on Stomach (5/side)

10 Front Squats w Empty Bar

10 Kips on Rig or 10 Pull-Ups
Skill Work:
Metcon (No Measure)
3 Rounds for Quality:

8 Kipping Motion

8 Heel Up to Knee Up (See Video)

8 Box-Foot Assisted Butterfly Pull-Ups
Metcon
Metcon (Time)
For Time:

24 Thrusters

24 Pull-Ups

30 Double Unders

18 Thrusters

18 Pull-Ups

30 Double Unders

12 Thrusters

12 Pull-Ups

30 Double Unders

6 Thrusters

6 Pull-Ups
Rx= 95/65lbs
Rx+= 115/75
Scales:

-Thrusters: Scale Weight so full ROM & Standards are hit every rep.

-Pull-Ups: Scale for Jumping Pull-Ups OR Ring Rows

-Double Unders: 30s Double Under Practice
Cool Down
Metcon (No Measure)
Cool-Down Series:

Foam Roll Quads & Back x 2:00 (Take your time)

Banded Bully x 30-45s ea. Arm

Banded External Rotation x 15 ea. Arm
Extra Gains
A1: Single Leg RDL (8-8-8 )
Use box to support foot if needed. In a slightly bent-knee position, hinge forward loading glute and hamstring as far as ROM allows, then return to upright position (all on one leg). Finish entirety of reps on one leg before alternating.
A2: GHD Situps (10-10-10)
Slow and Controlled

To a 12in Target off floor.