Friday, February 16th: CrossFit
Alpine CrossFit – CrossFit
Announcements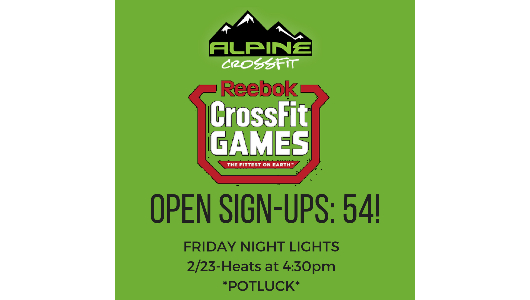 Next Friday is Open Workout 18.1 and FRIDAY NIGHT LIGHTS RETURNS! We will have a table set up for any and all food/drink items anyone want to bring 🙂 Excited to see the team names selected!
Warm-up
Garbage Ball (No Measure)
Class will divide into 2 teams on opposite sides of the gym. Throughout the area, different sizes of MedBalls and Sport Balls will be placed. On 3-2-1-GO! athletes will try to "Clean the garbage" from their side of the facility onto the other teams. Balls must be carried and placed to the other side (no throwing/tossing,etc…). Once the timer stops, the team with the most garbage on their side loses and will receive a penalty.
Warm-up (No Measure)
Post Garbage Ball Warm-Up x 2-3 Rounds

Banded Split Squats x 8 ea. Leg

Banded Good Mornings x 10

Inch-Worms x 5
Metcon
Metcon (Time)
For Time:

40-30-20-10

Rowing Calories

Wall-Balls (20/14)
Cool Down
Metcon (No Measure)
Cool-Down Series:

Foam Roll Quads x 30-60s ea.

Couch Stretch x 90s ea. Leg

Accumulate 2:00 Plank
Extra Gains
Metcon (No Measure)
3 Rounds for Quality:

2:00 Chain-Belt Banded March (With MB Hug)

Accumulate 30s L-Hang