Friday, December 29th: CrossFit
Alpine CrossFit – CrossFit
Announcements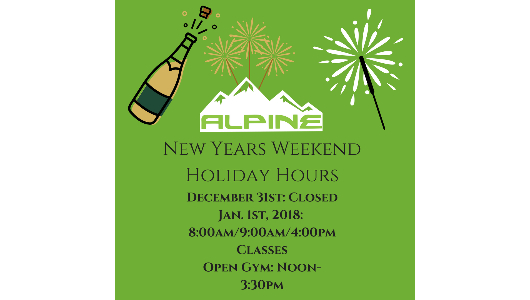 Warm-up
Full Body Warm-up C (No Measure)
"Rowling" 8 Rounds

Land exactly on 100m

For every 1 meter you are off +/- then do 1 burpee
3-way Overhead band stretch :30 Seconds per stretch

Hamstring Flossing :90 seconds each leg
Muscle-Up Gymnastics Warm-Up (No Measure)
3 Rounds

10 Hollow Body Rocks w/ MB

10 Supermans

15s Tabletop Position Hold

10 MB Bent-Over Row

10 Walk-Outs with Rotation ea. Direction
Skill Work:
Metcon (No Measure)
Muscle Up Kip & Transition Work: 10-15 Minute
Part 1: Build Up Kips

-Building Sets of 3 BIG Kips on the Rings. Focus on Maintaining a Hollow Body as your hips rise toward the rings. 5 Working Sets
Part 2: Muscle-Up Transition (Band Assisted)

-Set your rings with a Band to support banded MU transitions. Start with a heavier band to work the proper turn-over and catch position. Progress to a lighter band every 6-8 repetitions or as you become more comfortable & secure in your skill. Total of 25 repetitions.
Metcon
Metcon (Time)
Row 2K For Time

-EMOM = 6 Hand-Release Push-Ups
Cool Down
()
Extra Gains
Get ready for the final WOD of 2017 tomorrow morning!