Friday, April 4th: CrossFit
Alpine CrossFit – CrossFit
Announcements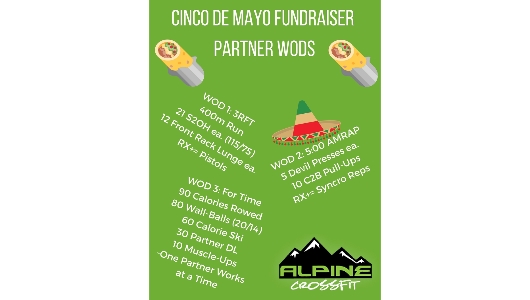 Which WOD are you going to do? Or 2? Or all 3???
Warm-up
Indoor Relay Warm-Up (No Measure)
50-100′ Each Movement

Lunge (Forward and Backward)

Side Lunges (Alternating)

Inch-Worm

Duck Walk

Standing Toe Touches

High Knee's (Forward and Backward)

Butt Kicks (Forward and Backward)

A-Skips

B-Skips

C-Skips

Bounding
Metcon
Metcon (Time)
For Time:

1500m Row

150 Double Unders

1500m Run
Scale: 300 Single Skips for DU
1500m Run= 1-Mile Loop without running to Apache Steel.
Strength (not for time)
A1: Landmine Anti-Rotation (12-12-12)
Much like landmine floor to overhead, but in this movement the legs and torso remain rigid. Only the arms cross and rotate with the end of the landmine/barbell from in front & overhead to near the hip. Top arm remains straight while lower arm can bend.
6 ea. Side

3131 Tempo
A2: Side Plank Raise + Hold (6+20s ea. Side x 3 Sets )
Perform Side Plank Raises with full hip contact on floor. After the designated number of repetitions, hold in a static position for the designated time.
Cool Down
Metcon (No Measure)
Cool-Down:

Foam Roll Calves & Quads x 60s ea. Leg

Banded Hamstring Active Release (5s Stretch; 10s Relax x 5 Sets ea.)

Calf Raised Walk x 50′

Toes Raised Walk x 50′

Tall Lunge Hold x 60s ea. Leg

Cobra Position x 60s (Belly Breath into Floor)
Extra Gains
Get ready for some amazing Metcons, Burritos, and Spikeball tomorrow!