First posting on the new site!! Friday, 1-11-2013
"Coe" 10RFT: 10 Thruster 95/65 10 Ring Push ups   *Scale by number of rounds, weight, type of pushups.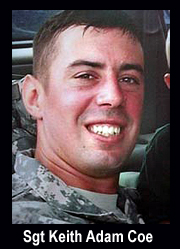 Army Sgt. Keith Adam Coe, 30, of Auburndale, FL, assigned to the 1st Battalion, 37th Field Artillery Regiment, 3rd Stryker Brigade Combat Team, 2nd Infantry Division, Joint Base Lewis-McChord, WA, died April 27th, 2010, in Khalis, Iraq, of wounds sustained when enemy forces attacked his unit with an explosive device.
He is survived by his wife Katrina Coe, two sons, Killian and Keith Jr., and daughter, Klover.
First posted 12 Aug 2010
PLEASE!!! Be sure to wash your hands, wipe down your equipment and use hand sanitizer!!! Most importantly, if you feel sick, STAY HOME!! It's not safe for you to workout and no you can't "sweat it out". Plus we don't want your germies at the gym! Be sure to be getting plenty of rest, good hydration (H20), good nutrition adn WASH THOSE HANDS!!